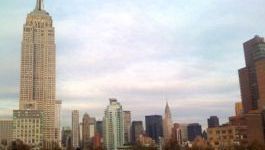 Verizon: Q3 EPS in line with expectations.
(CercleFinance.com) - Verizon Communications reported adjusted Q3 EPS, excluding extraordinary items, of 98 cents, down 3% y-o-y, but in line with the consensus.


The group posted an adjusted EBITDA margin that was up 0.2 points at 36.7% on operating revenues of 31.7 billion dollars, up 2.5% as reported, although down 2.3% y-o-y on a comparable basis.

The telecommunications operator boasted a net gain of 603,000 postpaid connections in its mobile division, including 486,000 for smartphones, as well as 4.8% growth in revenues for Fios in its landline division.


Copyright (c) 2017 CercleFinance.com. All rights reserved.