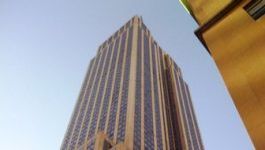 Travelers: sees wildfires loss of up to 625 million dollars.
(CercleFinance.com) - US insurer Travelers has set its pre-tax estimate of insured losses from the recent California wildfires at between 525 million dollars and 625 million dollars.


Ahead of the group's investor day, to be held next Monday, the company said that it estimates fourth-quarter catastrophe losses related to the event - which is one of the worst wildfire events in US history, in the range of 340 million dollars to 440 million dollars after-tax, including estimated recoveries from reinsurance.

Travelers also said that, based on its strong capital position and its expected full-year results, it soon intends to resume its share repurchase scheme.

The company had previously suspended its share repurchase plan as it assessed catastrophe losses from recent hurricanes and wildfires.

Copyright (c) 2017 CercleFinance.com. All rights reserved.