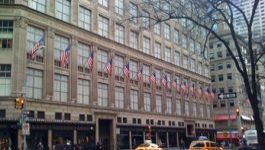 Tiffany: exceeds expectations in Q3.
(CercleFinance.com) - US jeweler Tiffany has reported Q3 earnings that are up 5% at 100 million dollars (to end-October), meaning EPS of 80 cents, above the consensus of around 76 cents.


At 976 million dollars, revenue increased by 3% as reported, with growth in most regions, including a 15% increase in Asia-Pacific. At constant stores and exchange rates, however, growth in revenues remains sluggish.

For FY 2017, Tiffany's management is once again maintaining its "mid-single-digit growth" target for its adjusted EPS, with revenues increasing "in low single-digits".


Copyright (c) 2017 CercleFinance.com. All rights reserved.