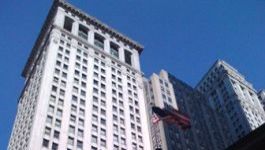 Tesla: two new models unveiled.
(CercleFinance.com) - The group yesterday introduced a revolutionary model for its range.
Soberly called "Semi", this opus, whose production is scheduled to begin in 2019, is of course electric. Equipped with four engines, it accelerates from 0 to 100 km/h in the space of 5 seconds.
This is indeed remarkable performance, to which is added a high level of autonomy of 800 kilometres.

Tesla has also presented a new version of its "Roadster". Available from 2020 for the tidy sum of 200,000 dollars (the first 1,000 models will however be sold at 250,000 dollars), this vehicle has a battery of 200 kilowatt hours (KWh) and can accelerate to 97 km/h in under two seconds.

Meanwhile, Jefferies has described the manufacturer's initiative as "smart". Maintaining its "underperformance" rating on the stock, with a target price of 240 dollars, the broker also expressed its opinion on the "Semi," deeming that it still lacks essential information - especially regarding the duration of the car's battery.


Copyright (c) 2017 CercleFinance.com. All rights reserved.