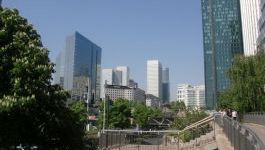 Qualcomm: board unanimously rejects Broadcom takeover offer.
(CercleFinance.com) - Unsurprisingly, the board of US chip maker Qualcomm said on Monday that it had unanimously rejected a 130 billion dollar takeover offer by rival Broadcom.


In a short statement, the board said it has come to the conclusion that Broadcom's proposal "dramatically undervalues" the company, while coming with "significant" regulatory uncertainty.

"It is the board's unanimous belief that Broadcom's proposal significantly undervalues Qualcomm relative to the company's leadership position in mobile technology and our future growth prospects," said chief executive and board chairman Paul Jacobs.

After the news, Qualcomm shares were up 0.7% at 65 dollars on the Nasdaq, while Broadcom shares were down almost 1%.

Last Monday, Broadcom had offered to acquire Qualcomm for 70 dollars per share, including 60 dollars in cash and 10 dollars in Broadcom shares, per share.

Copyright (c) 2017 CercleFinance.com. All rights reserved.