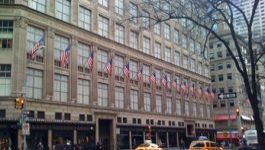 Pfizer: FDA grants priority review to lung cancer drug
(CercleFinance.com) - The Food and Drug Administration has agreed to a priority review of Pfizer's experimental lung cancer drug Lorlatinib, the company said on Monday.


The FDA has accepted and granted priority review to the company's new drug application for the treatment of patients with ALK-positive metastatic non-small cell lung cancer (NSCLC), previously treated with one or more anaplastic lymphoma kinase (ALK) tyrosine kinase inhibitors (TKI).

The European Medicines Agency and the Japan Pharmaceutical and Medical Devices Agency have also accepted marketing applications for the use of lorlatinib, Pfizer said.



Copyright (c) 2018 CercleFinance.com. All rights reserved.