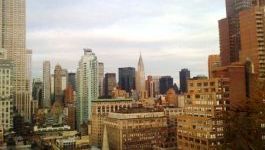 Merck: Lynparza wins speedy review in prostate cancer
(CercleFinance.com) - US regulators have granted a priority review to AstraZeneca's cancer drug Lynparza as a treatment for metastatic castration-resistant prostate cancer, the company said on Monday.


Anglo-Swedish group said that a supplemental new drug application has been accepted regarding the medicine, which is being jointly developed and marketed with Merck under a deal struck in 2017.

The application covers patients with metastatic castration-resistant prostate cancer and deleterious or suspected deleterious germline or somatic homologous recombination repair gene mutations, who have progressed following prior treatment, it said.

Lynparza is currently approved in 65 countries for the maintenance treatment of platinum-sensitive relapsed ovarian cancer.

Copyright (c) 2020 CercleFinance.com. All rights reserved.