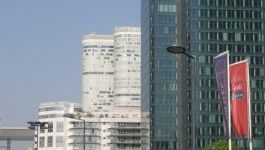 McDonald's: higher quarterly earnings.
(CercleFinance.com) - McDonald's reported higher quarterly earningson Tuesday, helped by the good shape of the global economy and the impact of the weaker dollar.


Q3 net income rose 47% to 1.27 billion dollars, or 2.32 dollars a share.

McDonald's said foreign currency translation had a positive impact of two cents on EPS.

Overall revenue slipped to 5.75 billion dollars, from 6.47 billion dollars a year earlier, but global comparable sales - which measure sales at restaurants that have been open since at least 13 months - increased 6%, including a 4.1% rise in the US.


Copyright (c) 2017 CercleFinance.com. All rights reserved.