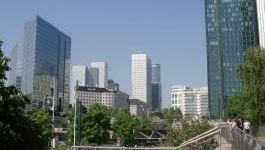 Macy's: Q4 outperforms estimates
(CercleFinance.com) - The department store chain Macy's share is expected to rise significantly this Tuesday, following the group's announcement of Q4 EPS of 4.
31 dollars before trading, against 1.54 dollar a year earlier.

Adjusted EPS came in at 2.82 dollars, 15 cents above the consensus.

Meanwhile, revenues were in line with the consensus of almost 8.67 billion dollars, compared to 8.52 billion dollars in Q4 2016. Revenues are expected to rise by between 0.5% and 2% over the current year, with same-store sales expected to increase by up to +1%.


Copyright (c) 2018 CercleFinance.com. All rights reserved.