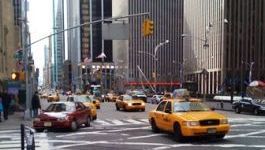 Kraft Heinz: net profit boosted by tax reform
(CercleFinance.com) - Kraft Heinz has reported Q4 2017 net profit of 8 billion dollars, or 6.
52 dollars per share, compared to EPS of just 77 cents a year ago. This year's result has been largely driven by positive effects from the tax reform in the US.

However, adjusted EPS fell by 1.1% to 90 cents, thus missing the consensus by five cents, with EBITDA growth more than offset by a higher effective tax rate.

Adjusted EBITDA of the agri-food giant increased by 4% to 2 billion dollars (+3.2% at constant exchange rates) on sales that were almost flat (+0.3% in reported terms and -0.6% organically) to just under 6.9 billion dollars.


Copyright (c) 2018 CercleFinance.com. All rights reserved.