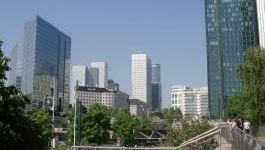 IBM: slightly exceeds expectations in Q3.
(CercleFinance.com) - On Tuesday evening IBM unveiled Q3 2017 net operating profit (non-GAAP) that is down 2% at 3.
1 billion dollars, meaning EPS of 3.30 dollars, i.e. two cents above the consensus.

Roughly stable at 19.2 billion dollars, the IT giant's revenues also exceeded the consensus of around 18.6 billion dollars, thanks to dynamic "strategic imperatives" (+11%), and particularly the cloud (+20%).

Boosted by these performances, the group's management, which is based in Armonk, New York, has confirmed its annual targets of an operational EPS of at least 13.8 dollars, as well as a relatively stable year-on-year free cash flow.


Copyright (c) 2017 CercleFinance.com. All rights reserved.