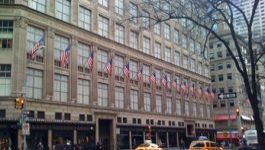 Home Depot: beats consensus in Q4
(CercleFinance.com) - Before Wall Street opened on Tuesday Home Depot reported Q4 EPS of 1.
52 dollar, up 8 cents y-o-y.

The home equipment specialist's non-GAAP EPS reached 1.69 dollar, compared to 1.62 dollar expected by analysts.

Revenues also exceeded expectations, reaching 23.88 billion dollars, compared to 22.21 billion dollars for Q4 2016; in particular, growth reached 7.2% at constant stores in the US.

Home Depot, which increased its quarterly dividend by 15.7% to 1.03 dollar per share, now targets a 6.5% increase in sales for FY 2018.


Copyright (c) 2018 CercleFinance.com. All rights reserved.