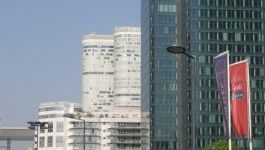 HP Inc.: beats consensus in Q1
(CercleFinance.com) - HP Inc, which includes the IT hardware businesses of the former Hewlett-Packard, has published an adjusted net income of 0.
8 billion dollars for its first fiscal quarter, or a EPS that is up 26% at 48 cents, against the consensus of 42 cents.

The adjusted operating margin fell by 0.1 point to 7%, although revenues rose 14% to 14.5 billion dollars (+13% at constant exchange rates), with 15% sales growth for PCs and 14% growth in printer sales.

On the strength of this performance, HP Inc. has raised its target for FY 2017-18 adjusted EPS growth to between 1.90 dollar and two dollars, against a previous target range of 1.75 dollar to 1.85 dollar.

Copyright (c) 2018 CercleFinance.com. All rights reserved.