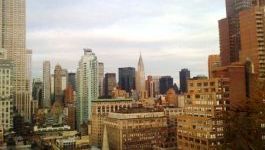 Ford: largely exceeds expectations.
(CercleFinance.com) - Ford has announced Q3 net income that is up at 1.
6 billion dollars, or 39 cents per share.

Adjusted EPS rose by 65% to 43 cents, hence beating the consensus by 11 cents.

The group from Dearborn (Michigan) saw its automotive operating margin rise by 1.7 point to 5% on revenue that was up 1% at 33.6 billion dollars and volume shipments that were slightly down to slightly over 1.5 million vehicles.

Over full-year 2017, the car maker now anticipates adjusted EPS of between 1.75 dollar and 1.85 dollar, thereby tightening (up) its target range, which three months ago, was 1.65 dollar to 1.85 dollar.


Copyright (c) 2017 CercleFinance.com. All rights reserved.