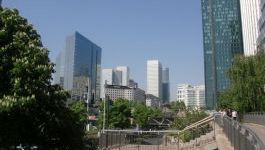 ExxonMobil: third-quarter net profit leaps 50%.
(CercleFinance.com) - ExxonMobil said on Friday that its third-quarter net profit rose 50%, thanks to higher crude oil prices, and further helped by the strenghth of its upstream business outside the US.


The Irving, Texas, company posted net income of close to 4 billion dollars, or 0.93 dollar per share, compared with 2.6 billion dollars, or 0.63 dollar per share in the same quarter a year ago.

Earnings at Exxon's exploration and production business (upstream) rose to 1.6 billion dollars, as commodity prices increased.

The US oil giant also also cited recent successes in deepwater exploration, such as the Turbot discovery in Guyana.

Total oil and gas output increased 2% year-on-year to 3.9 million oil-equivalent barrels per day.

After these results, Exxon shares were up 0.8% in premarket trading on Friday.

Copyright (c) 2017 CercleFinance.com. All rights reserved.