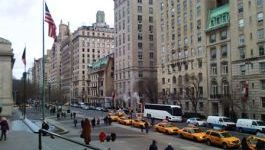 Disney: 'Coco' tops box office.
(CercleFinance.com) - Disney's new animated movie, "Coco," about a Mexican boy who plays the guitar, topped the box office charts over the weekend, cumulating over 95 million dollars in ticket sales worldwide.


The film, from Disney's Pixar studio, grossed just 26 million dollars at domestic theaters from Friday through Sunday, but grossed a total of 69 million dollars from international markets.

"Coco" easily topped Warner Bros' "Justice League" - which ranked second with 52.3 million dollars - and 20th Century Fox's "Murder On The Orient Express," which ranked third with takings of 29.8 million dollars.



Copyright (c) 2017 CercleFinance.com. All rights reserved.