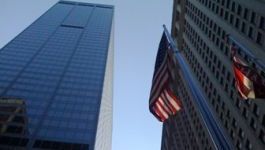 Chevron: shares dip on impairment charge
(CercleFinance.com) - Chevron's shares have fallen by up to 1% on Wednesday after the US oil company said it will book an impairment charge on its gas assets.


As a result of the downward revision in its longer-term commodity price outlook, Chevron plans to cut the funding to various gas-related opportunities including Appalachia shale gas project, and other international projects.

Chevron - which is evaluating the strategic alternatives for these assets, including divestment - said the non-cash, after tax impairment charges should come in at 10 billion dollars-11 billion dollars in its fourth quarter results, more than half of which is related to the Appalachia shale.

"The writedown is material, but the balance sheet remains strong, and the company has retained its focus on capital discipline," analysts at Berenberg commented.

Chevron also announced its capital budget for 2020, keeping the total budget flat at 20 billion dollars, in line with the 2019 estimate.

The stock was down 1% at 116.7 dollars after these announcements.

Copyright (c) 2019 CercleFinance.com. All rights reserved.