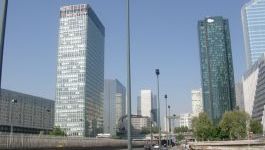 Broadcom: Q4 2018-19 EPS in line with expectations
(CercleFinance.com) - On Thursday evening, Broadcom unveiled adjusted EPS (non-GAAP) of 5.
39 dollars for Q4 2018-19, down almost 8% y-o-y and just one cent above the consensus.

Again on an adjusted basis, the San Jose-based supplier of semiconductor products improved its gross margin by 1.5 point to 69.9%, for sales growth of 6.1% to over 5.78 billion dollars.

With FY adjusted EPS of 21.29 dollars and revenues up 8% to 22.6 billion dollars, Broadcom expects FY 2019-20 sales of 24.5 billion to 25.5 billion dollars.


Copyright (c) 2019 CercleFinance.com. All rights reserved.