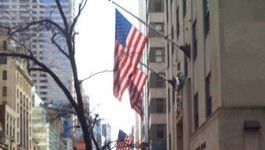 American Express: raises its FY EPS target range.
(CercleFinance.com) - After a better-than-expected Q3, on Wednesday evening American Express raised its 2017 EPS target range to between 5.
80 dollars and 5.90 dollars, compared to a previous target range of 5.60 dollars to 5.80 dollars.

The multinational financial services group posted a 19% increase in net income to nearly 1.4 billion dollars over the quarter, meaning EPS of 1.50 dollar, while the consensus was expecting two cents less.

Revenues rose by 9% to just over 8.4 billion dollars, also slightly beating the consensus, boosted by higher net interest income and higher spending by cardholders.


Copyright (c) 2017 CercleFinance.com. All rights reserved.