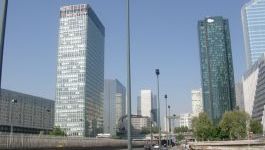 Alphabet: subsidiary signs agreement with Colas
(CercleFinance.com) - Colas announced on Wednesday evening that it has signed an agreement with Sidewalk Labs (swl), a subsidiary of Alphabet, regarding the testing of Flowell, the group's latest road innovation as part of the Toronto Quayside project.


"Benefiting from research rolled out for Wattway technology (energy-producing photovoltaic road surfacing), the dynamic luminous road marking solution Flowell captured the attention of teams from Sidewalk Labs," Colas said.

"Mobility is a cornerstone of this project, and infrastructure plays a major role. Colas and Sidewalk Labs are looking to experiment with ways to reclaim roadway space for pedestrians and the public realm by implementing Flowell technology to flex curb space to accommodate pedestrian use when vehicle demand is low."


Copyright (c) 2019 CercleFinance.com. All rights reserved.