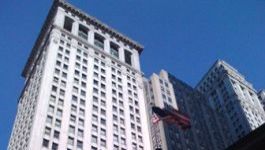 Statoil: leakage at Mongstad facility has stopped.
(CercleFinance.com) - The leakage at Statoil's Mongstad production facility has stopped after a naphtha leak was detected this morning, the Norwegian oil firm said on Tuesday.


The incident was reported to Statoil emergency centre at 7.14 am this Tuesday morning, prompting parts of the plant to shut down, the group said.

However, the situation was brought quickly under control and no injuries have been reported, Statoil added, stating that the cause of the incident will now be investigated.

Located 50 kilometres north of Bergen, the Mongstad plant combines an oil refinery, an NGL processing plant, a crude oil terminal, a cogeneration plant and a centre for CO2 capture from flue gases.


Copyright (c) 2017 CercleFinance.com. All rights reserved.