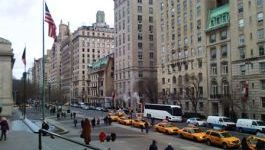 Norsk Hydro: preparing for production cut in Brazil
(CercleFinance.com) - A Brazilian state has formally ordered Norsk Hydro to cut the production of a refinery in the north of the country, citing environmental reasons, the Norwegian aluminium company said on Wednesday.


The order was sent by the Secretariat of Environment and Sustainability (SEMAS) of the state of Para, with Hydro now preparing to cut production of calcined alumina by 50% at its Alunorte plant.

The reason for this is non-compliance with an order to have enough freeboard in the plant's water basins, the company said.

Hydro warned that a production cut could potentially have significant operational and financial consequences. As a result, the Hydro share listed in Oslo was down 1.5% after the statement.

Copyright (c) 2018 CercleFinance.com. All rights reserved.