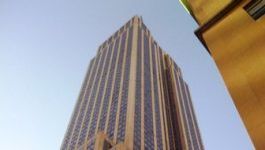 Mylan: Q3 disappointing - but forecasts raised.
(CercleFinance.com) - Unveiled before Wall Street opened on Monday, Mylan's Q3 results included EPS of 16 cents, against a loss of 23 cents a year ago.


Excluding extraordinary items, the generic drug specialist generated EPS of 1.1 dollar, although the consensus was more optimistic, expecting 1.2 dollar.

Meanwhile, revenue declined by 2% y-o-y to 2.99 billion dollars, compared with the consensus of 3.08 billion dollars.

Mylan, however, tightened its outlook for the year. The group now targets EPS of between 4.45 dollars and 4.7 dollars, with sales of 11.75 billion to 12.5 billion dollars, compared with respectively $ 4.3 dollars to 4.7 dollars and 11.5 billion dollars to 12.5 billion dollars previously expected.


Copyright (c) 2017 CercleFinance.com. All rights reserved.