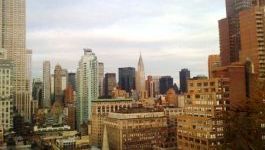 Euronext: cash volumes up 13.3% in October.
(CercleFinance.com) - Euronext has announced average daily trading volumes of 7.
17 billion euros in its cash markets in October 2017, up 13.3% compared to the same period in 2016.

The Pan-European stockmarket operator said that activity in ETF index funds fell by 6.1% y-o-y, with an average daily volume of 396 million euros.

Average daily volumes of equity index derivatives fell by 5.2% y-o-y to 191,769 contracts daily, while those of individual equity derivatives increased by 27.9% to 265,006 contracts exchanged per day.


Copyright (c) 2017 CercleFinance.com. All rights reserved.