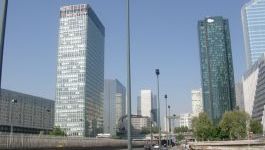 TomTom: shares fall after revenue guidance cut.
(CercleFinance.com) - TomTom shares have fallen as much as 3.
5% on Friday after the Dutch navigation systems company said it expects revenue for the year to be below its previous expectations.

The company now expects annual revenue around 900 million euros, due to the recent reorganisation of its consumer sports division. It had previously forecast revenue of 925 million euros.

In Q3, the firm recorded revenue of 218 million euros, down from 239 million euros in the same period a year ago, with EBITDA declining from 33 million euros to 31 million euros.

While the group says its sports business has been reduced in size, TomTom is now further assessing its strategic options for the unit, although the company has mentioned its intentions to continue to develop portable navigation devices.

Listed on Euronext Amsterdam, TomTom shares were down 3.5% at 9 euros this morning.

Copyright (c) 2017 CercleFinance.com. All rights reserved.