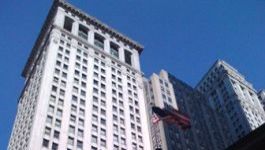 Aegon: to divest US life reinsurance businesses to Scor.
(CercleFinance.com) - Aegon said on Thursday that it has agreed to divest a block of life reinsurance business to France's Scor, as the Dutch insurer is trying to reduce the amount of capital allocated to its run-off businesses.


Under the terms of the agreement, Aegon's Transamerica life subsidiaries will reinsure approximately 750 million dollars of liabilities to Scor.

The transaction covers approximately half of the life reinsurance business that Transamerica retained after it divested the vast majority of its life reinsurance business to Scor in 2011, Aegon said.

While the transaction is expected to have a one-off benefit of approximately 75 million dollars on Transamerica's capital position, it is also expected to result in a pre-tax IFRS loss of approximately 125 million dollars (105 million euros) in Aegon's results.

Copyright (c) 2017 CercleFinance.com. All rights reserved.