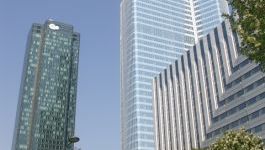 Airbus: BelugaXL enters service
(CercleFinance.com) - Airbus announces the commissioning of the BelugaXL.
This aircraft increases Airbus' transport capacity by 30% to support the ramp-up in production of civil aircraft programs.

This plane made its first operational flight on 9 January. It is the first of six BelugaXLs to enter service, alongside its BelugaST predecessors, with the commissioning of other aircraft scheduled to occur between 2020 and 2023.

The BelugaXL, "was awarded Type Certification by the European Aviation Safety Agency (EASA) in November 2019, following an intensive flight test campaign that saw the BelugaXL complete more than 200 flight tests, clocking over 700 flight hours," Airbus said.

At 63 metres long and 8 metres wide, the BelugaXL has the largest cargo bay cross-section of all existing cargo aircraft worldwide. It has a maximum payload of 51 tonnes, the BelugaXL has a range of 4,000km (2200nm).



Copyright (c) 2020 CercleFinance.com. All rights reserved.