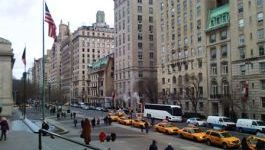 Airbus: Orion Shuttle to start tests
(CercleFinance.com) - The Orion Space Shuttle has joined the world's largest thermal vacuum chamber at the NASA Center in Sandusky, Ohio.


The shuttle will pass the critical phases of its tests over the next few months.

A team of engineers and technicians from Airbus, the European Space Agency (ESA), Lockheed Martin and NASA are ready to put the spacecraft through simulations of extreme space conditions.

"With the tests, we will show that the spacecraft's systems work as planned and at the same time ensure safe operation for the astronauts on future missions - both on the ground and on board," said Matthias Gronowski, Chief Engineer for the European Service Module that Airbus is building for NASA on behalf of ESA.

"This is a very important milestone for the journey to the Moon," he added.


Copyright (c) 2019 CercleFinance.com. All rights reserved.