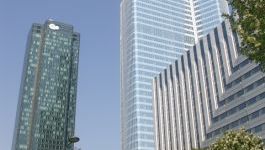 Airbus: creates the 'Seamless Air Alliance'
(CercleFinance.com) - Airbus, Delta, OneWeb, Sprint and Bharti Airtel have announced the creation of the "Seamless Air Alliance".


This alliance will enable member mobile operators to expand their services in airline cabins.

The Seamless Air Alliance will provide travellers - via satellite technology - with the same high speed internet connections on the ground and during flights.

The alliance - which aims to attract other operators beyond the original five members - will provide internet access to passengers with after a simple payment is made.

"What if the best internet you ever experienced was in the air? Keeping this goal in mind, together, we will enable an affordable and frictionless experience for passengers everywhere," said Greg Wyler, Founder and Executive Chairman of OneWeb.

"With the launch of our first production satellites set for later this year, we're one step closer to bridging the global Digital Divide on land and in the air."

Copyright (c) 2018 CercleFinance.com. All rights reserved.