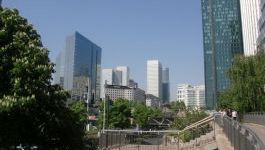 Heineken: pleasant surprise in beer volume growth.
(CercleFinance.com) - Heineken sold more beer than expected in the third quarter, helped by growth in countries such as Vietnam, Russia and South Africa.


The Dutch brewer said consolidated beer volume rose by 2.5% in organic terms over the past quarter, while the consensus was looking for just 2.4%.

"Performance in the third quarter was solid, with an acceleration of organic volume growth in Asia Pacific and Africa, Middle East & Eastern Europe," said CEO and chairman Jean-François van Boxmeer.

Overall, reported net profit reached 1,486 million euros for the first nine months, compared to 1,239 million euros in the first nine months of 2016.

The company said its full-year expectations remain unchanged.

"We are pleased to see continued strength in most markets and continue to rate Heineken a "buy"" reacted analysts at Liberum, deeming the shares' valuation "underappreciated."

Despite this, Heineken shares are currently down 1.4% at 83.8 euros in early trading on Euronext Amsterdam.

Copyright (c) 2017 CercleFinance.com. All rights reserved.