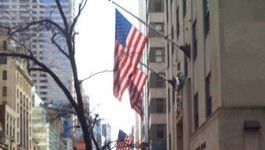 KPN: downward pressure on revenues, earnings.
(CercleFinance.com) - Dutch telecoms firm KPN on Thursday reported a decline in quarterly revenues, which logically impacted the group's bottom line.


The company posted a 6.6% decrease in third-quarter revenues to 1.6 billion euros, while adjusted EBITDA fell 3.9% to 636 million euros.

"As expected, the group financials for this quarter reflected the impact of the introduction of "Roam Like At Home" regulation within the EU," said CEO Eelco Blok.

Since June 2017, customers do not have to pay for roaming charges when travelling to other EU countries.

The company also maintained guidance for full-year adjusted EBITDA in line with the 2016 figure, including approximately a 40-50 million euro impact from roaming regulation.

Listed on Euronext Amsterdam, shares of KPN are currently up 1.1% at 3 euros.

Last week, KPN announced that Maximo Ibarra would succeed Eelco Blok as group CEO in 2018.

Copyright (c) 2017 CercleFinance.com. All rights reserved.