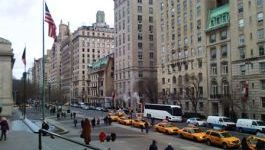 SES: net income declines in 2017
(CercleFinance.com) - SES has reported net income of 596.
1 million euros for 2017, down 38.1%, due to a capital gain made in 2016 for the consolidation of O3b, and an EBITDA margin of 65.1% (vs. 70.2% as reported and 66.7% at a constant consolidation scope in 2016).

Revenues posted by the satellite operator amounted to 2,035 million euros, down 1.6% (-5.2% at a constant consolidation scope, including -3.6% for SES Vidéo and -1.9% for SES Networks). At 31 December 2017, the group's order backlog stood at 7.5 billion euros.

The Board of Directors has proposed a 2017 dividend per Class A share of 0.80 euro, compared to 1.34 euro a year earlier. The group targets EBITDA margins of 64% to 64.5% for 2018, and over 65% for 2020.

Copyright (c) 2018 CercleFinance.com. All rights reserved.