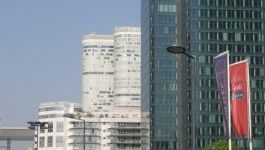 Boeing: raises dividend, plans new share buyback program.
(CercleFinance.com) - Boeing has raised its quarterly dividend, reflecting its confidence in its financial outlook, and said that it would launch a new share repurchase program.


The Chicago-based planemaker said its board of directors has decided to increase its dividend by 20% to 1.71 dollar per share, with payment on 2 March 2018 to shareholders on record as of 9 February.

The company also replaced its existing share repurchase program with a new 18 billion dollar authorization.

"Our cash deployment plans are the product of our disciplined cash management efforts and reflect ongoing confidence in our financial strength and the long-term outlook of our business," said chief financial officer Greg Smith.

Copyright (c) 2017 CercleFinance.com. All rights reserved.