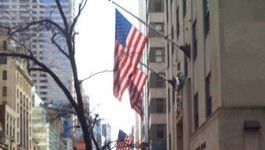 Shell: further cuts stake in Australia's Woodside.
(CercleFinance.com) - Royal Dutch Shell has entered into an agreement with two investment banks to further reduce its stake in Australia's Woodside, the company said in a statement on Monday.


Shell's subsidiary, Shell Energy Holdings Australia, will sell 71.6 million shares, which represent 64% of its interest in Woodside and 8.5% of the share capital of this independent oil and gas producer.

The transaction will lead to total pre-tax proceeds of approximately 1.7 billion dollars, the oil major said.

After the deal, Shell will own just 4.8% of Woodside.

In November 2010 Shell sold 10% of Woodside's share capital, retaining a 24.2% stake, before selling a further 9.5% share in June 2014.

Copyright (c) 2017 CercleFinance.com. All rights reserved.