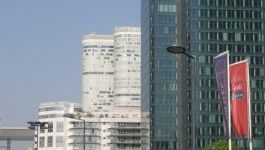 Kingfisher: shares jump after Jefferies upgrades to 'buy'.
(CercleFinance.com) - Kingfisher shares are currently bubbling - by 4% at 320.
8 pence on Wednesday, posting the second largest rise on Britain's FTSE 100 index, after US brokerage firm Jefferies upgraded its rating on the stock.

Jefferies, in a report issued today, raised its rating on the home improvement retailer from "hold" to "buy," while raising its target price for the share from 310 pence to 400 pence.

While the pitfalls to profit expectations are reducing, the scale of change at Kingfisher remains "meaningful," the broker says.

"The potential for a positive inflection in French market share and resilience to UK cyclical risks should be better valued," Jefferies said in its report.

Copyright (c) 2017 CercleFinance.com. All rights reserved.