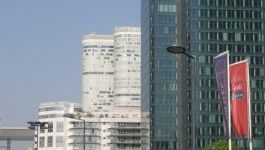 Burberry: chief creative office to leave at end of 2018.
(CercleFinance.com) - British luxury house Burberry said on Tuesday that its chief creative officer Christopher Bailey will leave the company at the end of 2018.


In detail, the executive will remain president and chief creative officer until 31 March 2018, when he will step down from the board, before overseeing the transition until 31 December 2018.

Burberry now plans to start looking for a successor.

"We believe this is a necessary move to make Burberry exciting again," commented Luca Solca, analyst at Exane BNP Paribas, after this news.

"We support the decision of newly appointed CEO Marco Gobetti to turn the page and seek new creative talent", the analyst said, adding that the brand had become somewhat "predictable and déjà vu".
Christopher Bailey - who joined the company in 2001 - became CEO and chief creative in May 2014.

The London-listed shares are currently down almost 2% at 1,886 pence.


Copyright (c) 2017 CercleFinance.com. All rights reserved.