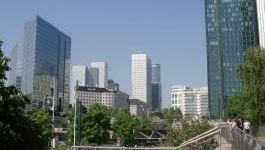 AstraZeneca: wins US FDA approval for pancreatic cancer
(CercleFinance.com) - AstraZeneca's drug Lynparza won US approval as a first-line treatment of advanced pancreatic cancer, the drugmaker announced on Monday.


Lynparza has been approved for the maintenance treatment of adult patients with germline BRCA-mutated pancreatic cancer whose disease has not progressed on at least 16 weeks of a chemotherapy regimen, the company said.

Phase III results showed a statistically significant and clinically meaningful improvement in progression-free survival, where Lynparza nearly doubled the time patients lived without disease progression or death to a median of 7.4 months vs. 3.8 months for placebo.

Lynparza is now the only approved targeted medicine in biomarker-selected patients with advanced pancreatic cancer.

Copyright (c) 2019 CercleFinance.com. All rights reserved.