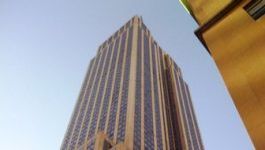 AstraZeneca: immunotherapy proves itself in lung cancer
(CercleFinance.com) - AstraZeneca said that its immunotherapy Imfinzi showed both significant survival benefit and improved durable responses in extensive-stage small cell lung cancer, the company said on Monday.


In the Phase III trial, the risk of death was reduced by 27%, with median overall survival of 13 months for Imfinzi plus chemotherapy, vs. 10.3 months for standard of care, the drugmaker said.

Results showed a prolonged survival benefit with an estimated 33.9% of patients alive at 18 months after treatment with Imfinzi plus chemotherapy, vs. 24.7% of patients following standard of care.

Results also showed a significantly higher progression-free survival rate at 12 months (17.5% vs. 4.7%), a 10.3% increase in confirmed objective response rate (67.9% vs. 57.6%), as well as an improved duration of response at 12 months (22.7% vs. 6.3%).

Small cell lung cancer is an aggressive, fast-growing cancer that progresses rapidly, despite initial response to chemotherapy.

Copyright (c) 2019 CercleFinance.com. All rights reserved.