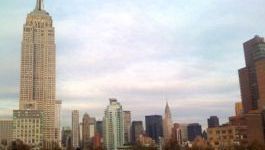 AstraZeneca: NF1 drug gets FDA orphan drug status
(CercleFinance.com) - AstraZeneca said on Tuesday that US health regulators have granted orphan drug status to Selumetinib, an experimental treatment for neurofibromatosis type 1 (NF1).


NF1 is an incurable genetic condition that affects one in 3,000 births, with skin and nervous symptoms causing complications such as high blood pressure and epilepsy.

People with NF1 also have an increased risk of developing cancers, including malignant brain and peripheral nerve sheath tumours, and leukaemia.

Selumetinib has been licensed by AstraZeneca from Array BioPharma since 2003.

Copyright (c) 2018 CercleFinance.com. All rights reserved.