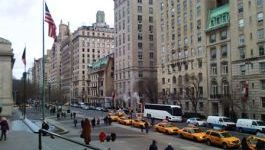 AstraZeneca: another regulatory submission for Tagrisso.
(CercleFinance.com) - AstraZeneca said on Tuesday that the European Medicines Agency has accepted a regulatory submission for Tagrisso for the first-line of EGFR mutated non-small cell lung cancer.


The submission is based on data from a phase III trial, in which Tagrisso significantly improved progression-free survival compared to current first-line standard treatment in previously-untreated patients with locally-advanced or metastatic EGFRm non-small cell lung cancer.

Lung cancer is the leading cause of cancer death amongst both men and women, accounting for about one-quarter of all cancer deaths.

Approximately 10-15% of patients in the US and Europe, and 30-40% of patients in Asia have EGFRm lung cancer.


Copyright (c) 2017 CercleFinance.com. All rights reserved.