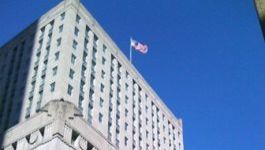 Pearson: says profit will fall this year, shares drop
(CercleFinance.com) - British educational publisher Pearson said on Thursday that it expects its operating profit to fall this year due to "heavy declines" in its US higher education courseware print business.


Pearson said it met its guidance in 2019, with underlying revenue flat and adjusted operating profit of about 590 million pounds.

But its US higher education courseware - which represents 24% of total revenue - declined by 12%, as students are increasingly using ebooks.

Pearson - which expects these trends to continue - forecasts adjusted operating profit to be between 500 million pounds and 580 million pounds in 2020.

This warning worried traders, and the shares fell over 10% in early morning trading on the London Stock Exchange.

Pearson also announced today that Coram Williams, its Chief Financial Officer will leave the company, to be replaced by Sally Johnson, its current Deputy Chief Financial Officer.

Copyright (c) 2020 CercleFinance.com. All rights reserved.