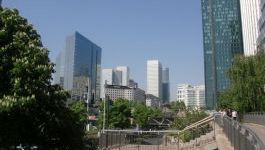 Suez: new initiatives in plastic recycling.
(CercleFinance.com) - In a statement released on Monday morning, Suez announced the development and diversification of its "RECO" offer, which is an innovative and incentive collection system that encourages the action of eco-citizens for an optimum recycling.


Suez said that in Europe, plastic production has been multiplied by 50 in the past 50 years, and this is continuing to increase, now reaching 50 million tonnes p.a. - 25 million tonnes of waste plastic is produced, of which only a quarter is recycled. At the same time, the oceans are currently threatened with unprecedented pollution levels. In a context of increasingly scarce resources and repetitive climatic issues, providing plastic with a second life is a virtuous example of the circular economy.

As such, the group has set itself the target of increasing its recycling facilities by 50% to over 600,000 tonnes by 2020.

The 100 RECO kiosks deployed in France (in partnership with mass market retail players, the support of the Citeo eco-organisation and the industrial group Nestlé Waters) encourage people to sort their waste.

Indeed, for each bottle deposited (water, milk, washing detergent, shampoo etc.), consumers are rewarded with a voucher, worth 1 to 2 euro cents, which can be used at stores of partner companies or a group of local tradesmen.

Once collected, the bottle is then sent to a processing and recycling centre to be transformed into secondary polymers and thus be used for the manufacture of new similar products.

Copyright (c) 2017 CercleFinance.com. All rights reserved.