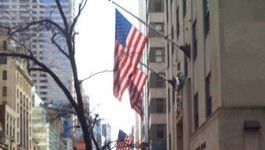 Engie: signs an agreement with Crédit Agricole Assurances
(CercleFinance.com) - Engie and Crédit Agricoles Assurances have reached an agreement for their joint venture FEIH (Futures Energies Investissements Holding) to acquire nearly 500 megawatts (MW) of wind and solar photovoltaic farms by the end of 2018, it was learned on Friday morning.


These renewable electricity generation parks were developed and built by Engie, which thereby strengthens a strategic partnership opening up new development opportunities in the domain of energy transition, while limiting capex and net debt.

Created in 2013, with a first acquisition of 440 MW of wind farms, FEIH is jointly owned by Engie and Crédit Agricole Assurances. Via this new agreement, Engie will own over 1.3 gigawatts (GW) of wind and solar farms by the end of 2018 and will therefore have tripled the size of its portfolio in five years.


Copyright (c) 2017 CercleFinance.com. All rights reserved.