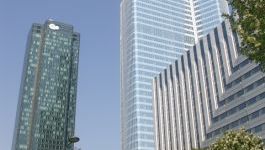 Nexity: 9m sales of 2,250 million euros (+11%).
(CercleFinance.com) - Sales over the first 9 months of 2017 reached 2,250 million euros, with all the group's businesses reporting growth year-on-year (+11%).


At a constant consolidation scope, excluding Edouard Denis and Primosud, the group's turnover at the end of September 2017 reached 2,207 million euros, up 9% compared to end-September 2016.

Turnover of the residential real estate division came in at 1,627 million euros, up 12% y-o-y. "This growth reflects an increase in the division's order book over previous quarters."


Copyright (c) 2017 CercleFinance.com. All rights reserved.