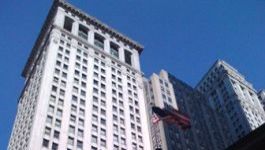 Trigano: Q4 earnings up 41.6%.
(CercleFinance.com) - Trigano has consolidated its positions and reported Q4 turnover of 394.
0 million euros, up 38.0%.
Full-year turnover reached 1,707 million euros, up 29.6%.

For its camping-car business, Trigano reported FY revenues that are up 28.2% like-for-like (+36.2% including the takeover the Auto-Sleepers business).

FY results benefited from the growth of this business, cost control and further improvements in productivity. Personnel costs (+21.2%) and external costs (+19.0%) therefore increased at a much slower pace than sales (+29.6%), management said.

Trigano's underlying operating profit for fiscal year 2016/2017 came in at 148.5 million euros, meaning a margin of 8.7% (vs. 7.6% in 2015/2016). Net profit reached 126.9 million euros (+41.6%), or 6.63 euros per share (+41.6%).

Copyright (c) 2017 CercleFinance.com. All rights reserved.