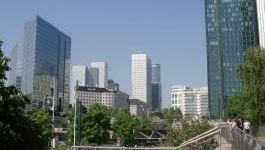 Orange: framework agreement with Altitude Infrastructure
(CercleFinance.com) - Orange announces the signing of a national framework agreement which will enable it to market its offers on the FTTH networks operated by the group Altitude Infrastructure, which concerns 3.
5 million sockets in 22 departments.

Already available for 13.5 million homes and business premises throughout France, "La Fibre Orange" will gradually be marketed in all territories where Altitude Infrastructure is present, most of which are located in low-density areas.

This partnership, marking a key milestone in the marketing of fiber networks operated by Altitude Infrastructure, will be automatically applicable on future networks of this alternative telecommunication network company.


Copyright (c) 2019 CercleFinance.com. All rights reserved.