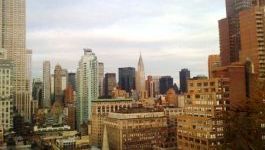 Renault: launch of a new version of SM3 ZE.
(CercleFinance.com) - This Thursday at the International Future Auto Expo in Daegu (South Korea) Renault Samsung Motors unveiled a new version of the SM3 ZE ("zero emission"), a model that it has marketed since 2013.


This new SM3 ZE has increased its range by 57% to 213 km (according to the homologation cycle in force in South Korea). In addition, the battery now has energy of 36 kilowatt hours (KWh), without increasing its mass.

With a daily average of 40 kilometres driven per person in South Korea in 2016, according to the Korean Transportation Safety Administration (KOTSA), the new SM3 ZE can run for about 5 days on a single charge.


Copyright (c) 2017 CercleFinance.com. All rights reserved.