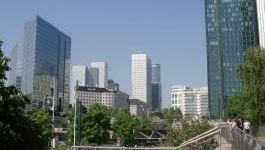 BNP Paribas: funding partnerships with EIB
(CercleFinance.com) - The EIB Group, comprising the European Investment Bank (EIB) and its subsidiary the European Investment Fund (EIF) and BNP Paribas have decided to accelerate their support to European companies with over one billion euros in new funding.


Amongst these transactions, an initial synthetic securitisation transaction has been signed on a loan portfolio granted to French SMEs and midcaps. The groups have also signed the second partnership in France for environmentally-friendly funding in the maritime sector.

On the same day in Poland, BGZ BNP Paribas and the European Investment Bank (EIB) also announced a new funding of around 240 million euros to strengthen support for Polish SMEs and mid-caps.


Copyright (c) 2017 CercleFinance.com. All rights reserved.