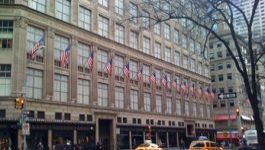 Dassault Systèmes: E3.65bn bond placement
(CercleFinance.com) - The software publisher Dassault Systèmes has announced that it has successfully placed its first unsecured senior bonds in euros in four tranches totalling 3.
65 billion euros. The bonds are to be settled on 16 September.

The bond issuance is distributed in three- and five-year instalments, at zero coupon, maturing in seven and ten years, with respective yields of 0.19% and 0.44%. The average borrowing rate is 0.16% for an average duration of approximately seven years.

The proceeds from the bond issue will be allocated to the group's general needs, including partial financing of the acquisition of Medidata Solution and the refinancing, under excellent terms, of a bank loan of 650 million euros maturing in 2022.


Copyright (c) 2019 CercleFinance.com. All rights reserved.