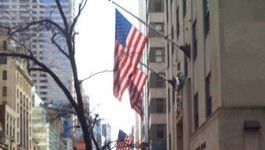 Eiffage: acquires 49.99% of Toulouse-Blagnac Airport
(CercleFinance.com) - On Tuesday, Eiffage announced the completion of the acquisition of 49.
99% of the capital of Aéroport Toulouse-Blagnac (ATB), the company that holds the concession out to 2046 for France's fifth airport.

With a headcount of 3,000 in the Occitanie region, the group has regularly worked with the ATB teams on various projects. It intends to position itself as a long-term partner of the public co-shareholders of the airport development, the group announced.

This acquisition of close to 500 million of euros is a good fit for Eiffage's strategy aimed at diversifying its concessions portfolio as well as lengthening its duration in the territories where it has a long standing presence.

Copyright (c) 2019 CercleFinance.com. All rights reserved.